Notes from Missions International
Please Share!!
If you have any projects your parish is currently working on with your sister parish, any helpful hints for being a sister parish, or if you have made a recent trip to your sister parish and would like to share your story and pictures, please contact Missions International. We would love to update our website with current sister parish activities!
Friendly reminder...
Please remember to notify your sister parish when you send financial support and be sure to use current account information. If you have any questions, please contact Missions International.
Updates

"2018, The Year of Travel"
Missions International is happy to announce that it will be coordinating a trip for sister parishes to Guatemala. The trip will be June 15 to June 20. We encourage two or three people to represent your parish, and it would be very helpful if one of the individuals traveling is fluent in Spanish. If no one traveling is fluent in Spanish, we will find a local translator. Please email
sisterparish13@gmail.com
if you are interested in this trip.
February 2018 With the help of Hospital Sisters Mission Outreach and Food for the Poor, medical supplies were delivered to the medical clinic in Peten, Guatemala and non-electric sewing machines were delivered to the sewing school in Izabal, Guatemala.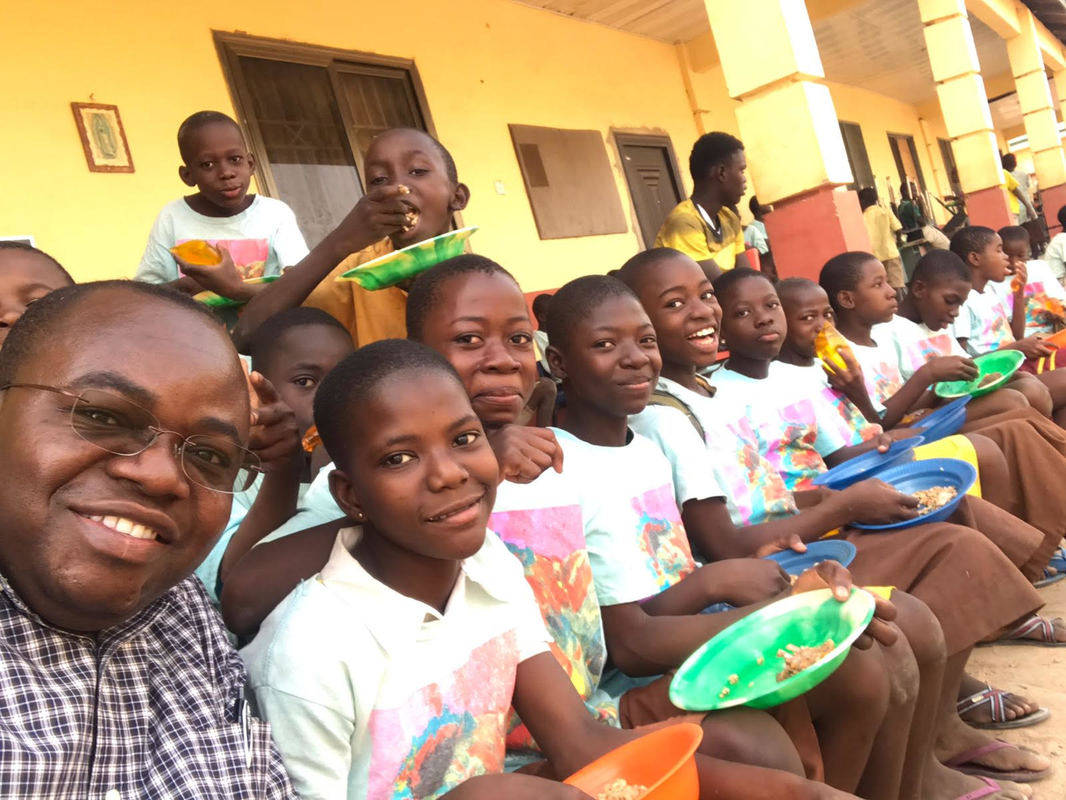 Christmas party in Ghana, West Africa, 2017 "I want you to know that we really enjoyed the rice you sent. I bought two goats for $80 and for many of these children this was the first time they ate meat since last Christmas. The rice with soy bean and carrots was really good. Thank you so much." Fr Paul Kala
On Monday, October 30 in the Diocese of Solola, Guatemala the Beatification of Father Stanley Rother Francisco was held. The parish where Fr. Stanley worked is in Santiago Atitlan. It was a celebration where many people participated. The women of Santiago Atitlan put tape in their hair as a ritual and the celebration was at the foot of the Santiago Volcano.
​The 2017 sister parish conference focused on visiting your sister parish and​ included a wonderful video with messages and prayers from Haiti and Guatemala. To view or share the video, please copy and paste the following URL https://www.youtube.com/watch?v=O6IFT4G3XRo&feature=youtu.be
Below you will also find the discernment document that Cheryl Sommer referenced during the panel discussion.
May, 2017
Physical therapy equipment and statue of Joseph arrive in Haiti at the St. Joseph's Center


May, 2017 Nursing manikins are donated to the nursing school at Notre Dame University of Haiti in Gonaives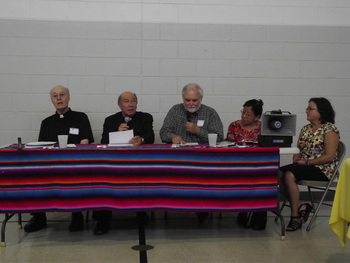 August, 2016
The "Strengthening Sister Parish Relationships" conference was well attended with approximately 150 representatives from sister parishes in both the Belleville and Springfield Dioceses. Bishop Julio Cabrera from Jalapa, Guatemala addressed the crowd with thanks and encouragement for the progress that has taken place since the beginning of sister parish program. It was a beautiful day with ideas that were shared to strengthen the existing relationships. If you would life further information from the conference or about your sister parish, please use the contact page.
---
April, 2016 4X4 pick-up truck arrives in Ghana

"I wish to take this opportunity to express my profound gratitude again for a mission well accomplished. Without the support from Missions International, I would never have been able to realize this project. Without doubt, this vehicle is going to enhance my work in the tribunal as well as in the seminary. It is going to aid me moving around for purposes of inquiring into peoples' marriage issues so as to pastorally help them appropriately. The Mission and Vision of Missions International have been accomplished in this my project, and I pray that God will continue to bless and keep you in all your endeavors so that you can make the gospel of Christ reach to the farthest end of the world by your support and ministry." Rev. Dr. MORNAH MATTHIAS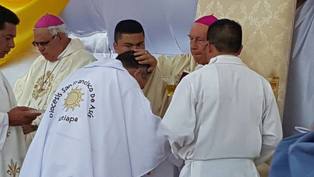 New Diocese Erected on April 23, 2016
"Pope Francisco on Jan. 25 announced the creation of the diocese of Jutiapa and also announced that their new bishop would Father Felix Eduardo Antonio Calderon Cruz, a diocesan priest from the west of the country, of the Diocese of San Marcos, Guatemala. The diocese of Jutiapa has St. Francis of Assisi as its patron saint, and his Holy Church Cathedral is located in the center of the city of Jutiapa. The episcopal ordination of Father Antonio Calderon Cruz was held on April 23 with the participation of Mr. Apostolic Nuncio Monsignor Nicholas Thevening, President of the Episcopal Conference of Guatemala, the two Archbishops of Guatemala, the Episcopal Conference of Guatemala, and some bishops of Mexico, Colombia and Honduras. The principal consecrating bishop was His Excellency Monsignor Julio Edgar Cabrera, Ordinary Bishop of the diocese of Jalapa. The event was attended by many priests of the diocese of Jalapa, Zacapa, San Marcos and the Archdiocese. The Mass was celebrated in Progreso, Jutiapa, 15 kilometers from the seat of the diocese, in Sanctuary, under construction dedicated to Our Lady of Lourdes. It is estimated that the laity who attended were about 18 thousand. All those who participated saw with great joy the presence of a delegation from the diocese of Belleville and Springfield that was strongly applauded as a sign of gratitude for your solidarity with our parishes. United in an atmosphere of faith, joy, and especially gratitude to God and the Pope Francisco, I wish these notes help them understand what we have experienced in the diocese of Jutiapa." Padre Duarte Teodoro Beltran
---
April 20, 2015 - THE SHIPPING CONTAINER HAS ARRIVED! Please play the slide show below to see some of the supplies that have been delivered to Juan Pablo II Hospital in Guatemala City. Your prayers and contributions have helped make this blessing a reality for the children that access services at this hospital.
More on the Water Well Project...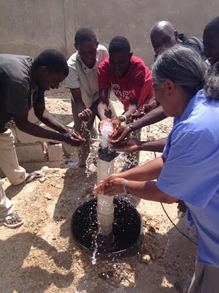 July 21, 2014 - Progress continues to be made on the water well project in Haiti. Here is a picture of the well at the St. Joseph Center in Gonaives, Haiti. This well was successfully completed in February 2014 and continues to provide clean water to the local community. Sister Renee, a member of the religious community operating the center, wrote in a recent letter:

"I, along with all the Sisters of our community, the
mothers and babies of the Nutritional Centre, the physically challenged children of
our Orthopedic Centre, the school staff/children, thank you whole heartedly for
your kindness. The water from this well will serve almost a thousand people each
day. (School + Centers)."


Thank you to all supporting Missions International and this project! Hundreds of lives are being touched each day through your generosity.

---
Guatemala Trip 2013
In July I made my first trip to Guatemala and I was so blessed by this trip. Words cannot even begin to express the beautiful experience that unfolded before me. The people I met were so kind, and I learned so much. I thought I knew what was going on with our sister parishes, but going, seeing, and experiencing first-hand sheds new light on the sister parish program. I knew our sister parishes were feeding the poor, but I was amazed by the depth of the evangelization of the Catholic faith taking place. From the training of missionaries who go to every home and shack (Catholic and non-Catholic) to talk about our relationship with God to the Bible now being written in the native language of K'iché, our sister parishes are expanding the Kingdom of God with your support. The sister parishes in Guatemala even go beyond this and promote women's rights and provide education like reading, writing, sewing, and much more. I encourage every parish in the United States to visit their sister parish and discover their brothers and sisters in Christ. -Shelly Sands, President
Visit from Guatemalan priest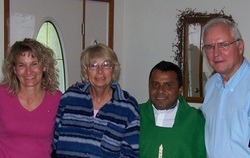 Another way to build the relationship between you and your sister parish is to invite the pastor of your sister parish to visit your parish. In the summer of 2012 we had the pleasure of visiting with Padre Stuardo from Guatemala. Sharing time together and celebrating Mass with our brother from Guatemala was truly a gift from God. I encourage all parishes to reach out to your sister parish and communicate on a regular basis. If you have not been in contact with your sister parish in the last month or two, please email or send a letter. Many of the pastors of our sister parishes have access to a computer. If you are not sure how to contact them, please contact Missions International.
---
My Trip to Haiti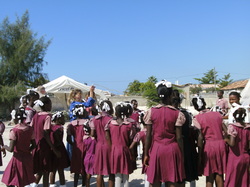 Greetings from Missions International! On October 31, 2011, I embarked on my first trip to Haiti. Words cannot begin to describe the heartfelt love we were shown. Although poverty was all around us, the people we met were so thankful and joyful. The impact you have as a sister parish is so great. Not only do you improve the quality of life for thousands, but also as a sister parish you become part of the Universal Church. Through your prayers and support, you help to spread the Word of God and become the hands and feet of Christ in the world today. On behalf of all our brothers and sisters in Haiti, Guatemala, Venezuela, and Ghana, thank you!

Sincerely,
Shelly Sands, President


---